Used Video and Photo Items for Sale
As Digital Dubuque has been in the multimedia industry for 25 years and strives to offer state of the art solutions and productions we end up with a lot of equipment that functions like new but is not the latest and greatest. Used items for sale.
Below you will find a list of fully functioning items we have that are no longer needed as they have been updated.
Should you be interested please use the contact link and let us know the item, all prices are negotiable. 563-583-7128 or Contact Us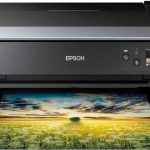 Epson R3000 Printer $250 – The Epson Stylus Photo R3000 employs Epson's UltraChrome K3 with Vivid Magenta inks, an archival, pigment-based ink set that brings an extremely broad dynamic range. It can output standard-size borderless or bordered prints up to 13 x 19" and as small as 3.5 x 5". Depending on the thickness of your media choice, the SP R3000 features a choice of three media paths including a front, media-in/media-out path for heavier fine art media (up to 1.3mm thick), canvas and printing onto CDs/DVDs using the included CD/DVD tray. More info here
Pickup in Dubuque, Ia
Sigma 80-400 1:4.5-5.6 APO with Canon mount. Tiffen UV Protector filter and padded case included. Well cared for and gently used by a professional $495 Amazon link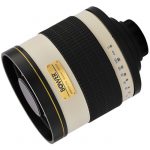 Bower 800mm F8.0 Mirror Lens $100

http://www.overstock.com/Electronics/Bower-800mm-F8.0-Canon-EOS-Mirror-Lens/5222250/product.html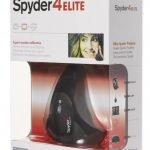 Monitor Calibration Spyder4Elite $75
Expert monitor calibration for photographers and more. Everything included in original box with software. Make your printing match your monitor. Mac and PC software included : PC Minimum System Requirements ) USB port ) 24-bit video card ) Spyder4 sensor ) 32-bit or 64-bit versions of: Windows 7, Windows 8, Windows 10 ) Color monitor with at least 1024×768 resolution Mac Minimum System Requirements USB port 24-bit video card Spyder4 sensor Mac OS X 10.7, 10.8, 10.9, 10.10, 10.11, 10.12 Color monitor with at least 1024×768 resolution
We have two identical versions of the below package
DVCPro AJD215 Millennium Pack camcorders – 2 with extra batteries and softside cases. $595.00 each , free shipping
Used but in very good condition. Used primarily for weddings by one owner, low drum hours. Serviced regularly. Comes with Camcorder, lens, light, battery charger and extra battery, tripod mount and soft case. If there is room, I will throw in some used DVCPro tapes as well.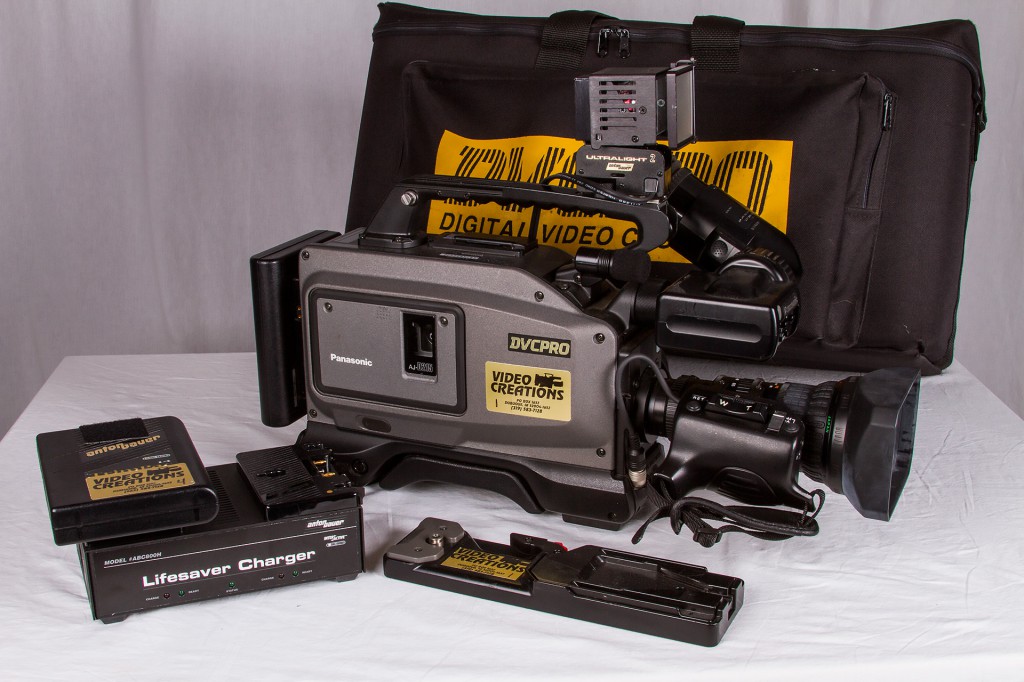 Click image for larger photo.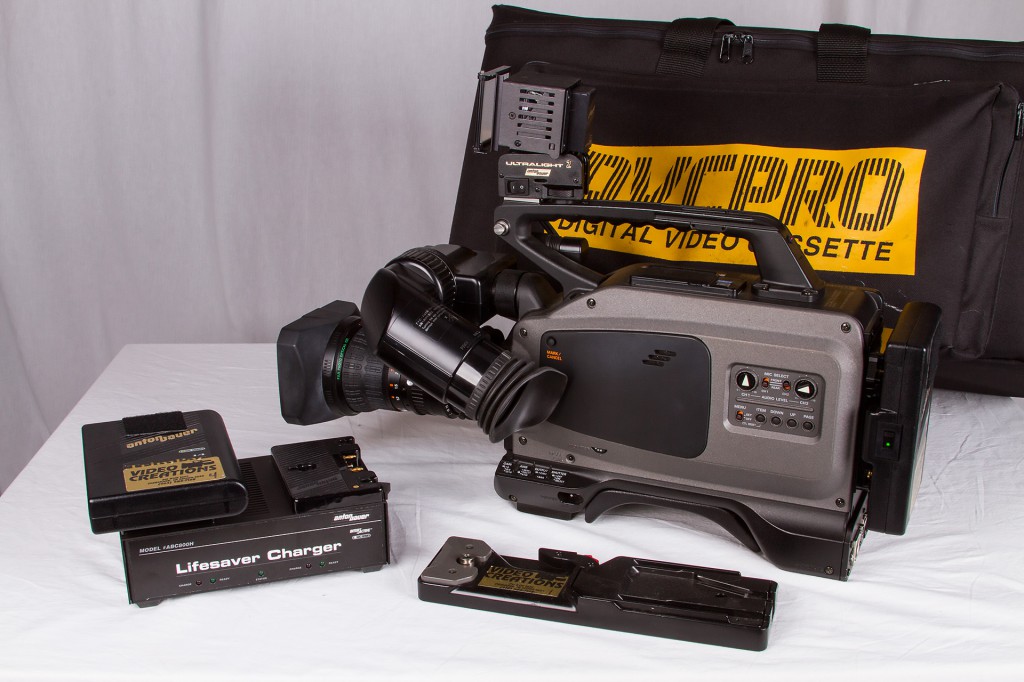 Click image for larger photo.
Model Details
The AJ-D215 is a DVCPRO camcorder for professional users. The AJ-D215 records for up to 184 minutes on a single DVCPRO large cassette. This lets you shoot even long events without switching tapes while enjoying a high level of reliability – DVCPRO's metal particle tape is renowned for durability and stability.
Features:
Superior low light performance
5 lux minimum illumination
Built-in ND filter for stable picture quality even when shooting outdoors under bright sunlight
Records up to 184 minutes on a single DVCPRO large cassette
Industry standard bayonet mount removable lens
Auto tracking white balance
IEEE 1394-based DVCPRO terminal allows connection to a back-up DVCPRO VTR for digital dubbing with superb picture and sound quality
Less than 16W power consumption
7-speed electronic shutter (1/100–1/8000)
Built-in SMPTE time code generator/reader
High-resolution 1.5″ electronic viewfinder
Audio inputs use standard XLR connectors
Playback with no adaptor necessary
Anton/Bauer gold mount plate
Manual audio level
1-touch camera status report
Battery: Anton/Bauer, NP-1, BP-90, AU-BP402, AU-BP220
DC In: XLR 4-pin (Male)
Power Consumption: Less than 16W (including 1.5″ viewfinder)
Operating Temperature: 0°C to 40°C (32°F to 104°F)
Storage Temperature: -20°C to 60°C (4°F to 140°F)
Operating Humidity: Less than 80%
Continuous Recording Time: Approx. 120 min. with ABT14, Anton/Bauer Trimpac battery
Camera Pick-up Device: Interline Transfer 1/3″ CCD image sensor with On-Chip lens (x 3)
Camera Digital Quantization: 8 bits A/D
Camera Digital Signal Processing: 13.5 MHz/27MHz
Camera Sensitivity: 2000 lux with F5.6 +1/2, 3200 K
Camera S/N Ratio: 60dB (typical)
Camera Vertical Resolution: 400 TV lines
Camera Registration Error: Less than 0.03% (all zones, without lens)
Camera Gain: 0/+6/+12dB, 0/+9/+18dB
Camera Optical System: F1.4 prism system
Camera ND Filter: 1/16 Manual on/off by slide switch
Camera Viewfinder Horizontal Resolution: 600 TV lines (center)
Camera Viewfinder Control: VR: bright, contrast, peaking; SW: tally, zebra, character
VCR Format: DVCPRO 1/4″ digital compressed recording
VCR Recording Track: Digital Video; Digital Audio: 2CH; Sub-Code; CTL: 1 Track
VCR Tape Speed: 33.820mm/s
VCR Cassette Size: AJ-5P92L: 125 x 78 x 14.6mm
VCR Recording/Playback Time: Approx. 198 min. using AJ-5P92L
VCR Video – Sampling Frequency: Y: 13.5 MHz; C (PB/PR): 3.375 MHz
VCR Video – Quantization: 8 bits/sample
VCR Video – Error Correction: Reed-Solomon Code
VCR Video – Bandwidth: Y: 0 to 5.75 MHz +1.0/-3.0dB
VCR Video – S/N Ratio: 55dB
VCR Video – Y/C Delay: 20ns or less
VCR Audio – Sampling Frequency: 48kHz
VCR Audio – Quantization: 16 bits/sample
VCR Audio – Frequency Response: 20Hz-20kHz, +1.0dB/-1.5dB
VCR Audio – Distortion: Less than 0.2% (at 1kHz, reference level)
VCR Audio – Crosstalk: Less than -65dB (at 1kHz, between 2 channels)
VCR Audio – Wow & Flutter: Below measurable limit
VCR Audio – Headroom: 20dB
VCR Audio – AGC Level: Standard, +8dB
VCR Front Mic In: XLR 3-pin, balanced, -60dBu, 3k ohms -60/-50/-40dBu selectable
VCR Audio In (CH1/CH2): MIC/LINE Switchable with internal DIP SW; MIC: -60/-50/-40dBu selectable, 10k ohms; LINE: -6/0/+4dBu selectable, 10k ohms
VCR Video Out: BNC x 1, 1.0Vp-p, 75 ohms
VCR S-Video Out: 4-pin x 1; Y: 1.0Vp-p, 75 ohms; C: 0.286Vp-p, 75 ohms
VCR Audio Out (CH1/CH2): RCA (CH1/CH2), -6dBu unbalanced, low impedance
VCR Headphones: Stereo mini jack
DVCPRO I/F (Option): IEEE1394 standard (6-pin)
Specifications:
Power Requirements : 12VDC (10.5V to 17V)
Net Weight : Approx. 5.9 kg (13.0 lbs.) (including lens, V.F., tape, and battery pack)
Minimum Illumination : 5 lux (F1.4, +18dB gain)
Shutter Speed : 1/100 to 1/8000-sec.
Horizontal Resolution : 500 TV lines (Center)
Lens Mount : 1/3″ bayonet mount (conversion lens)
Viewfinder : 1.5″ monochrome
Tape Format : 1/4″ Metal Particle Tape
CCD Configuration : 3 high-density 1/3″ IT CCDs