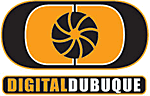 Email - Request Form
---
Submit your E-mail to DIGITALDUBUQUE.COM. We want to make this site is as useful and informative as possible.
Send us your comments, suggestions and questions. We look forward to hearing from you !

If you are interested in a photo or photo release please let us know the subject and image number under the photo.

Prints can be ordered on-line from our client order system here.
If you are not seeing the event in our order system please let us know.

Sitting fees for family's, groups, seniors, pets, etc.: 1-10 guests $120, includes location of choice or studio with group and individual photographs, photo editing, on-line proofing and ordering included.
Order $150.00 in prints and receive access to all images on-line in high resolution.
Order $175.00 in prints and receive all images in print quality on a CD.
CD only cost is $200.00.

Return to Home Page
Copyright (c) MMIV-MMIX, by Video Creations/Web Savvy/Digital Dubuque. All rights reserved.
Text, graphics, and HTML code are protected by US and International Copyright Laws, and may not
be copied, reprinted, published, translated, hosted, or otherwise distributed by any means without explicit permission.
---